Jeanneau Merry Fisher 795 Serie 2 (2024)
Able to take you out on the water for morning fishing trips with friends, as well as for long weekend outings with family, the Merry Fisher 795 Series 2 promises many enjoyable moments for you to share with friends and family.
DESIGNED FOR WEEKEND GETAWAYS ON THE WATER
Comfortable, versatile, and cleverly designed, the Merry Fisher 795 Series 2 is the boat for weekends on the water with family and friends. Boasting a large forward double berth, it also accommodates two additional guests in the saloon, which transforms into a berth. Equipped with a shower and head compartment, as well as a galley, this model enables you to enjoy breakfast on board and a 360° view of the sea, all while sheltered within the well-ventilated saloon.
OPTIONS TO SUIT YOUR PREFERENCES
Enjoyable to drive, easy to live with, elegant and contemporary, the Merry Fisher 795 Series 2 suits a variety of profiles and, in addition, offers numerous possibilities for personali-sation in function with your preferences. Do you appreciate greater ease of use? The bowthruster and electric winch make child's play of handling at port. Do you enjoy sportier cruising? Engines of up to 250 HP enable enhanced performance for higher-energy crossings. Are you seeking greater comfort and a welcoming atmosphere? The U-shaped cockpit configuration, galley with a burner and countertop, and air conditioning will make your boat into a cosy and inviting haven in all seasons.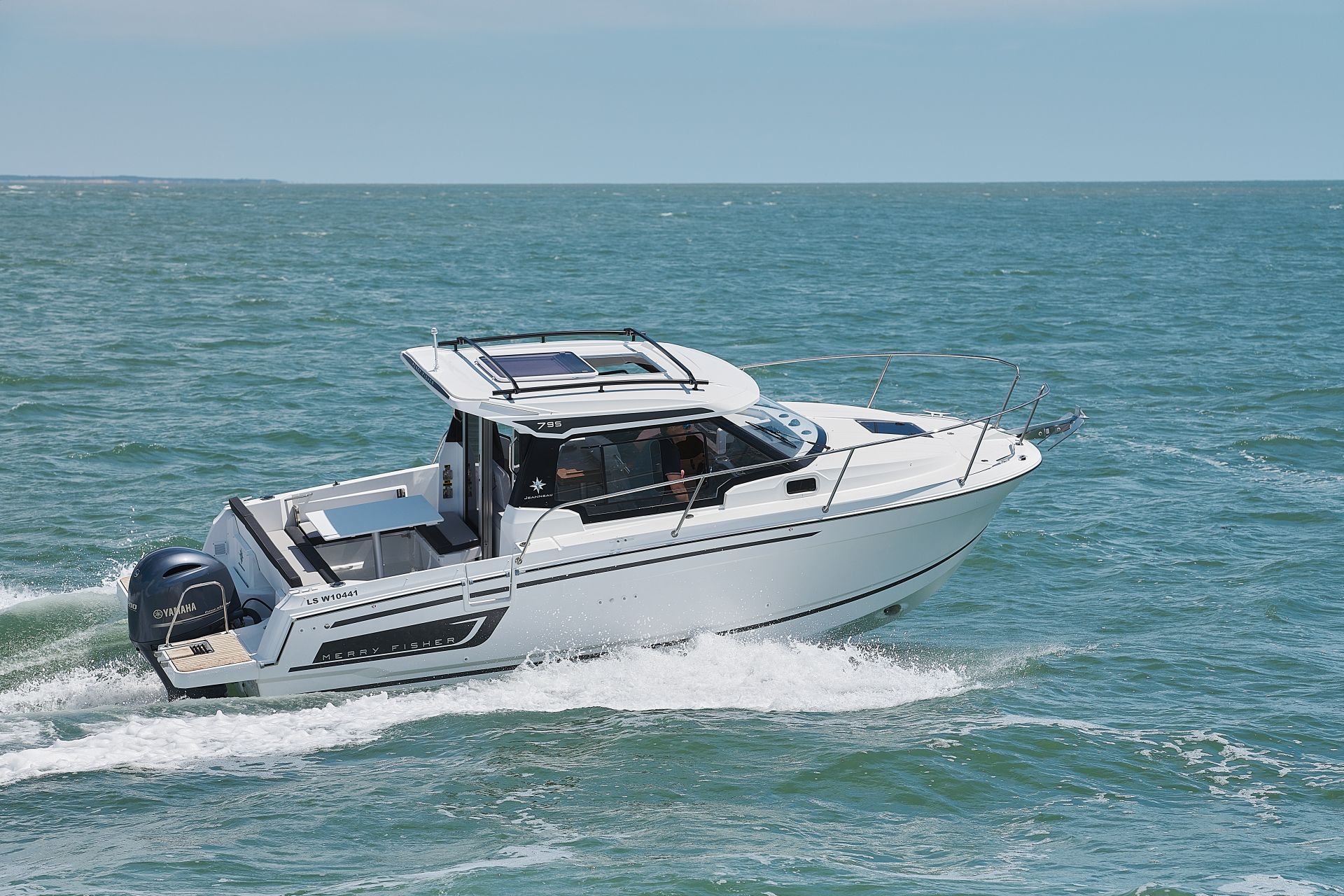 SPECIFICATIONS
Designer
Centowski & Denert Design / Jeanneau Design
Height Above Waterline (m)
2.34
Number of Beds (optional)
2
Engine Power (optional) (HP)
200
More
BROCHURES
CALL US
BOATS WE RECOMMEND
Excess 11 (2023)
Catamaran | 11.42 m
Jeanneau Merry Fisher 795 Serie 2 (2024)
Outboards | 8.14 m
Prestige M48 (2024)
Powercat | 14.79 m